InfernoX
A massively powerful sound barrier for protecting huge spaces, from 200m² to 800m². It is oriented at the commercial & industrial markets where protection of large areas is required. The InfernoX is encased in a rugged, sealed metal case which contains the sound generator, amplifier and battery. The unit is customizable, with the capability of broadcasting the patented Inferno sound spectrum at sound pressure levels significantly higher than any other Inferno sound barrier. It is connected to speakers in groups of 4, dependent on the size of the area to be protected - the maximum number of speakers that can be connected is 16. The nature of the satellite speaker setup permits the protection of several physically distinct areas, if required.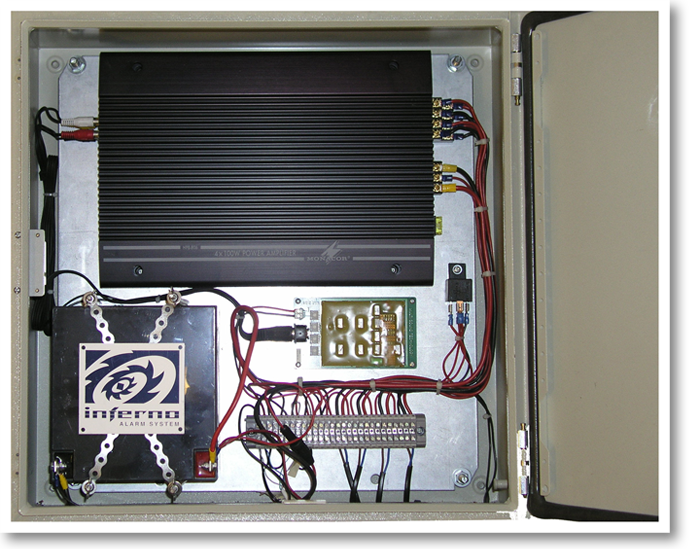 Typical applications:
Large industrial and commercial spaces that are simply too large and sprawling for the Intenso sound barrier to provide adequate protection. Most often deployed in warehouses, factories, storage facilities and large scale retail premises.
Technical summary:
| | |
| --- | --- |
| Protective capability | 200m2 to 800m2 |
| Acoustic effect | >125dB |
| Dimensions | 500mm x 500mm x 210mm |
| Weight | 37kg + speakers |
| Battery | 27Ah, Pbg |
| IP rating | IP65 |
Data sheet:
Download

the InfernoX data sheet with complete technical specifications.